Brand results for
Go to Shop
Airarabia
Book Air Arabia Flights
Air Arabia (G9) is a premier low cost airline, with its headquarters situated at the Sharjah Freight Center, Sharjah International Airport, Sharjah, United Arab Emirates. The airline is also the largest low cost airline in North Africa and the Middle East. Air Arabia operates scheduled domestic and international flights to more than 80 destinations across the Middle East, Europe, Asia and North Africa. Some of the famous destinations that the airline covers are Moscow, Istanbul, Amsterdam, Barcelona, Kuwait, Tehran, Milan, Lyon and many more. The airline is also renowned for offering the best legroom for any Economy Class and specializes in providing exciting in-flight entertainment.

Classes of Service

In a bid to provide the lowest and most affordable fares, Air Arabia operates just one class: Economy Class. The company operates with the principle of delivering the best without burning a hole in your pocket. Air Arabia is renowned for offering the best legroom for any economy class and offers seats that come with features like pitch of 31-32in, headrest and much more. Passengers only pay for the services they request like preferred seat selection, pre-order meals and much more. The airline also offers a range of cuisines and alcoholic beverages to treat your taste buds. To satisfy your entertainment quotient, Air Arabia offers an exciting collection of movies, sports programs, music and much more. Those who like to read can enjoy the carrier's in-flight magazine named Al Nawras.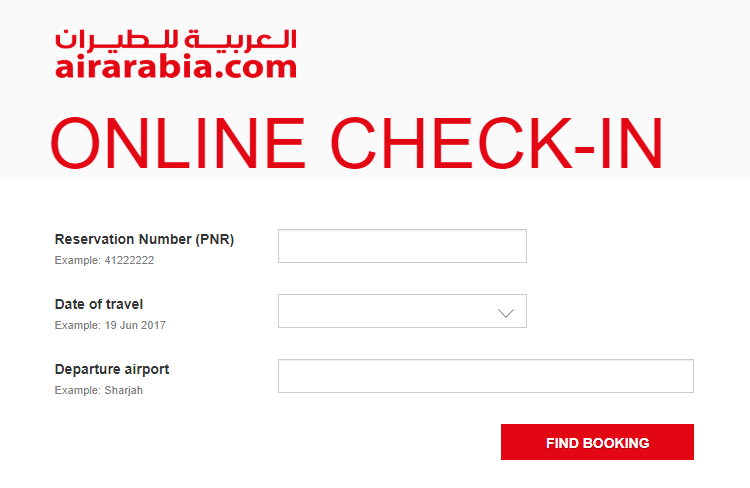 Amenities
Despite of being a low cost airline, Air Arabia offers many amenities. These are some of the features that passengers can enjoy on-board.
•In-flight entertainment which includes a collection of movies, television programs, magazines and much more.
•Seats designed for your relaxation, equipped with features like pitch of 31-32in, ample legroom and much more.
•A range of cuisines and alcoholic beverages to choose from, plus the facility to pre-order you meals according to your dietary requirements.
Checking-In
Air Arabia offers two ways of checking-in: web check-in and check-in desks. Passengers are advised to check-in early so that they don't face any problems with the security and baggage check procedures. Passengers would not be allowed to take the flight without a boarding pass, so keep it handy and secure, always.
Web Check-In: With Air Arabia, you can check-in from the comfort of your home or office, all you require is an internet connection and a laptop/PC. So no need to stand in long queues at the airport, perform web check-in with the touch of a button. This facility is only available for those traveling from Sharjah International Airport. Web Check-in time ranges from 24 hours up to an hour before the flight's scheduled departure time.